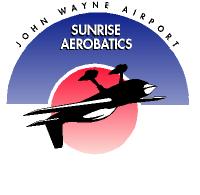 Unique Training
Michael Church has been teaching aerobatic flight for more than 40 years and is recognized as a Master Aerobatic CFI. Under his leadership Sunrise has grown to become the most varied and active aerobatic operation in the US: instructors deliver specialized maneuver and safety training to hundreds of customers every year.
Our Citabria, Decathlons, and Extra 300 are kept busy with a wide variety of programs designed to suit every possible aerobatic interest, from relaxed recreation through the most intense competition. We have the experience and expertise to support you.
The training is efficient and thorough--designed to produce pilots with the skills necessary to continue improvement in solo aerobatic flight. Our Senior staff includes Michael Church, Jon Nash, Bill Hill, and Daniel Wisehart, all seasoned instructors and aerobatic competition pilots.
Use the "Enrollment" menu item at the top of this page to make contact with Sunrise staff.
School: Our flight school has top-notch facilities, including spacious classrooms, wireless broadband and computer-based interactive programs. For a complete description of the aerobatic programs offered, use the "Courses" link on the right.
Competition: Sunrise offers sufficient range of airplanes to permit pilots to develop competitive skills from Primary through Unlimited; all are available for solo rental upon completion of checkout requirements.Use the "Competition" link on the right for more information about our contest activity.
Japanese pilots: We have a special page for prospective aerobatic students from Japan


Here is a video demonstrating our training techniques in an Extra 300.
---
Sunrise Aviation
19531 Campus Drive, Suite 7
Santa Ana, California 92707 USA
Voice (800) 717-4200 • (949)-852-8850
Fax (949) 852-1401
© Copyright 2009, Sunrise Aviation. All rights reserved.